When
From 23-03-2017
To 23-03-2017
Where
What
The regions of Liguria, Piemonte and Lombardia invite their partners and top UK travel trade to a Leisure-focused networking event.
The event will incorporate pre-set meetings and regional presentations accompanied by some of the regions' tastiest dishes and best wines.
The evening will be a great opportunity to build new relationships and connect with existing partners in a lively and personal setting.
Click here: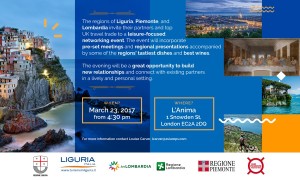 EVENT AIM
TO CONNECT UK LEISURE AGENTS WITH LIGURIA, LOMBARDIA & PIEMONTE PARTNERS
This event concept has been presented to ensure that partners can meet agents directly by having a series of structured appointments whilst also showcasing food and drink from the promoted regions.
EVENT CONCEPT
SPEED NETWORKING WITH A CULINARY TWIST
Guests will be transported from their desks to a place where fine Italian dining takes precedence and have the opportunity to meet some of the best partners in the Liguria, Lombardia and Piemonte regions.
The event will have a speed-networking element with a focus on securing between 10-12 meetings with key partners whilst being served some delicious cuisine and regional wines with a modern touch in a stunning contemporary environment that houses some of the best chefs in the business.
Both partners and invitees will have a chance to network after the speed-dating session in a more informal environment, bringing their meeting potential higher.
This evening function will be held at a centric venue in London where UK Leisure agents will be welcomed with a glass of prosecco and a selection of canapes upon arrival.
Liguria, Lombardia and Piemonte will conduct a 10-minute presentation for each region at the beginning of the evening.
A prize draw will take place at 21.00 to entice agents to network longer.
VENUE
L'ANIMA RESTAURANT
L 'Anima restaurant is situated a 7-minute walk from Liverpool Street station, Shoreditch overground and Moorgate underground station.
All the chefs and the staff are from Italy and extremely passionate about crafting an authentic Italian food experience. The venue was also shown on the UK version of MasterChef in 2016.
TIME SCHEDULE
4.30-5.00 p.m.     Only for Italian operators: UK market trends presentation
5.00-5.30 p.m.     Italian sellers set up tables
5.30-6.00 p.m.      UK Buyers arrive – welcome drinks & canapes
6.00-6.30 p.m.      Presentations by Liguria, Lombardia & Piemonte
6.30-8.30 p.m.     Speed networking (12 appointment – 10 min slots)
8.30-9.30 p.m.      Raffle & post speed networking drinks & canapes
10.00-10.30 p.m.  Event finish & close